A while back, I have a week camped in Scotland. In the wild. I went from 1 x camp during school camp and once with a friend along, to camp in the wild. And admittedly, for the trip, I saw quite contrary to that. Eventually, all the campsites in Scotland were full in the summer, and I had little choice anyway.
Wild camping in the great outdoors
It was cold tonight, and I have no idea where we are exactly. Last night it became dark and the little persons everywhere we almost immediately dived into the tent. But now I wake up the heat, and sunlight. I do not know how fast I need to unzip the tent. My God. What is nice here. Our best 4 person tent is pebbles, but it still feels soft. The fog fairly quickly pulls away, and the mirror-smooth water comes to appearances. I go out of the tent for breakfast. Pancakes, eggs, bread and yogurt. We cook under the trees, and there is no one food is out of our tent. Heat. Sun. Nature.
Wild camping in Europe Tips & Tricks
The above is for me a moment of ultimate happiness. Relaxation and free. And so I think everyone should go once wild camping in the great outdoors. However, on certain conditions, of course. Want to sleep in nature then it is logical that you respect her, treated her well.
Where in Europe can you wild camping?
Wild camping is somewhere overnight at locations not designated. If you do this, then this is called bivouac (from 19h to 9 am you can camp anywhere) for a night. The rules for this are less stringent than for longer wild camping.
In most places in Europe, it is not allowed just anywhere to put your tent. In Belgium and Luxembourg, permission must be requested at the ranger or the owner before you can place anywhere your tent. In the Netherlands, on the initiative of the Forestry Commission or campgrounds where you can free legal and semi-wild camping. Among others Finland, Scotland, Sweden, Turkey and Norway's wild camping under certain conditions indeed. Here you can enter private land to enjoy the great outdoors: biking, hiking, boating and swimming is permitted. And you can set up the tent on the condition that no damage to nature or agriculture is done, and that nobody is disturbed. Hunting and fishing are not allowed anyway. Fire may make in many cases not (especially in National Parks), whether it is limited permitted at designated spots.
Countries where wild camping would be permissible:
Turkey
Georgia
Sweden
Finland
Latvia
Lithuania
Estonia
Norway
Iceland
Poland
Greenland
France: 1-hour walking distance away.
Austria
Switzerland, extreme nature is wild camping allowed, as long as 100m away from water.
Provide a good foundation
A good night's sleep does wonders, and because you can change relatively little to the environment with wild camping, it is convenient to take with a firm mattress. Grass, sand or anything else can be cold and hard and from my experience, I say that's a tragedy. I use this mat as a base and to sleep on.
Overnight near water, but not too close
In Scotland, we slept a few times at the famous loch's "and although it was beautiful, combined with forest and summer that evening almost impossible to do regarding little persons. These mini mosquitoes are terror beasts, so you are not nice to sit outside. Fire or scented candles help even more. Still, to have handy some water in turn. In Sweden, for example, Greenland or you can even drink it in many places. Also, the beautiful your gear and yourself, to be able to wash a bit!
Maybe they help not very good against little persons. Other animals remain faster away. Citrus find wasps example, not very much. And a candle evening's also been very enjoyable. Note that this does not tilt.
And do not forget toilet paper
The nightmare of every woman (right?), For me anyway. No toilet nearby. Thank god that Scotland throughout the city public toilets and even showers! Paper or Wipes are real salvation during the wild camping. As disinfectant soap anyway.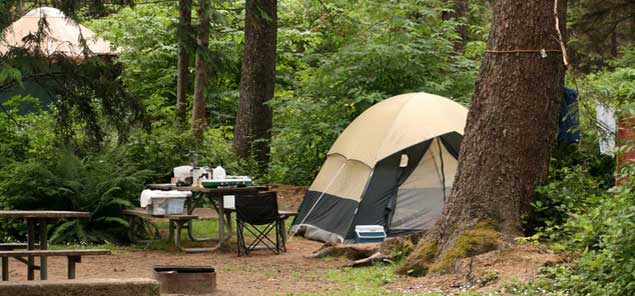 The packing list
Tent/hammock with mosquito net
Sleeping bag
sleeping mat
Flashlight (even more convenient, one for your head)
Deo, dry shampoo, cream, disinfectant gel, wipes.
Sharp pocket knife
Bags for trash
candles
In fillable bottle (water)
Slippers
Lighter
tin-opener
Towel
Perhaps in first by biting the bullet for the first time wild camping for most (women?). But then he tastes fantastic. Camping in the wild is one of best ways to travel. I was in Scotland in the summer and slept on Lake Lomond, one of the most beautiful places in Scotland! For more information, visit http://www.familytentcenter.com/