A camping tent is not chosen without thinking if you want to enjoy a comfortable use, secure and sustainable return of this product. If you master the criteria for choosing this product, you can easily find one that suits you. That's why we offer some tips in this buying guide for the best camping tents. We suggest you take into account three main criteria: weight, strength and comfort.
Buying Guide
The weight
The first criterion by which you should choose a camping tent is its weight. Again, as in most cases when you plan to buy a product, it is best to adapt your choices based on the intended use of the tent. Just by considering this criterion, you may already know how to buy a tent for a better value.
A tent can weigh in around 1 6 kilos. Your choice should depend on the intended use of the tent, the means of transport you will use when you bring a tent with you and where you plan on traveling with a tent. A heavy and spacious model can do no problem if you go for a car and camping in a place where you will have no problems of space. By cons, it's a lighter tent for you if you walk around and do the long walk to reach the camp.
Furthermore, considering that weight, you can simultaneously take into account the size of the tent, in particular during transport. The ideal is always to opt for these tents which become perfectly compact after folding.
Resistance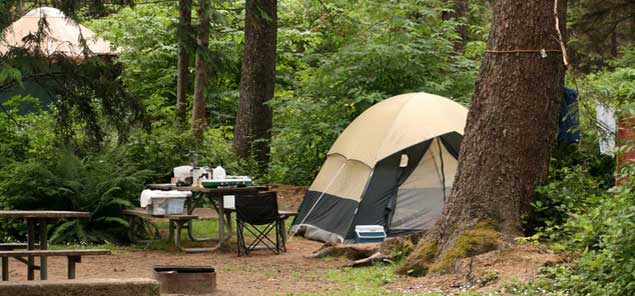 The resistance of a tent ensures that its use is sustainable. Durable tent is both strong and waterproof so you can use it in any season without any constraints. This impermeability often depends on the quality of the material constituting the external cloth and carpet. In terms of the strength of the whole of the tent, it is the robustness of the arches and the quality of the materials which constitute it must also be checked.
In addition, a resistant tent attaches securely to the ground and may in no case be blown away if camping in the great outdoors in windy weather. Then try to find out where to buy a new tent and where you could learn about these features.
Comfort
The last selection criterion to consider before moving to a price comparison is the comfort of using the tent. Various factors determining this comfort and you can check them one by one if you plan to use this product in good conditions.
The comfort of use of a tent is determined primarily by the size of the space inside thereof. The idea is to adjust the volume inside the tent to the number of people who will use it and everyone can have the maximum space to live in comfort. You can also check the number of doors to see what comfort. If many of you use it, it is best to have at least two doors with one tent.
Here we recommend you one of the best camping tents for groups, especially in case you camp in a desert.
The best camping tent for 3 persons is currently the Ultrasport Outdoor Sahara. Not only is it easy to assemble and disassemble, but in addition, this tent's tractor has a strong and smart coating that can protect the people staying on the weather.
The 3 persons who sleep there enjoy all comforts even if they go camping in nature. In addition, the bars that compose it are fiberglass and therefore, they are sturdy enough to last in time and bear the tent for one to three weeks. Moreover, the tent is airy enough for everyone to be at ease at any time.
With this tent you will be sure to be protected from rain and water seepage and bars are strong enough to remain fixed to the ground even when the wind is strong. The advantage with this tent for 3 persons Ultrasport Outdoor Sahara is that its mounting system is so easy that even children over 10 years are able to install and uninstall it and as it weighs only 4 kilos when folded, everyone can carry it.